A Very Open Mic – Stand up Comedy in English – 28 Feb 20:00 at Patron Stage
Pizza Padrone | Patron Stage
63 Potgieterstraat, 1053 XV Amsterdam
---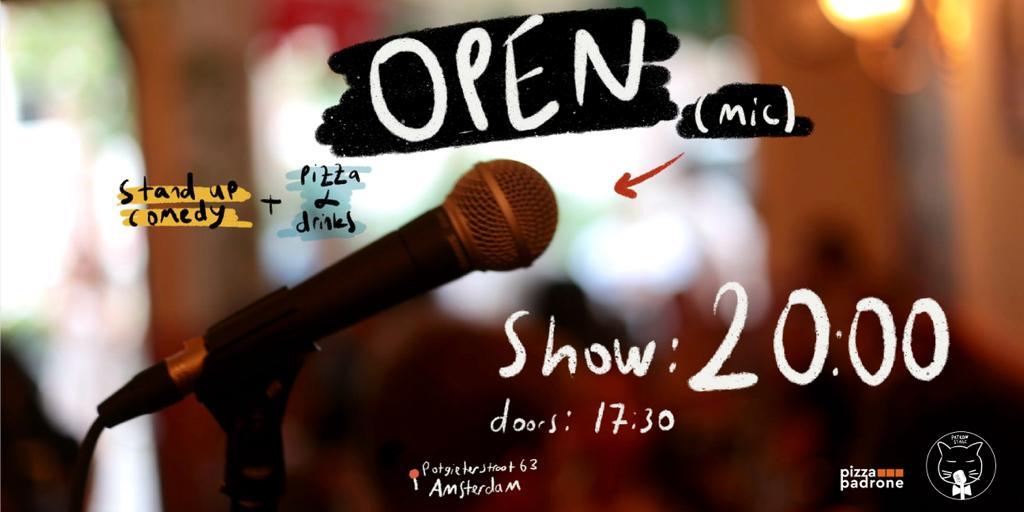 Sign-up on the night open mic, buy your tickets, show-up, sign-up and perform or watch! (max 20 performers so first come first served basis)
What is this "Very Open Mic" you may ask.
Comedians (get a free drink equal to the ticket price so its' technically FREE for comics but we still need to sell tickets to get the commitment and to know how many performers we should expect) and audience buy their tickets, show up on time, and anyone who wants to perform for a maximum of 5 mins can go on the stage! No line-up, try whatever you want, new jokes, crowdwork, storytelling, singing and so on, within 5 minutes.
We have a limited capacity for performers, up to 20. Depends on the night, we might increase the capacity of the performers if things go smooth and if audience is not getting bored, but that's not guaranteed.
All you need to do is to buy your ticket, and tell to MC of the night that you want to perform once you're at the venue. If you change your mind and don't want to perform, that 's alright! If you didn't sign up to perform, but after seeing a few comics, you thought, "hey, I can do this" and you're right, you can. Just find the MC, tell that you wanna perform and we'll see if and how we can fit you in.
Follow us on instagram @patronstage to stay posted.
🍕 Pizza & Drinks: 6:00PM
🎭 Show: 8:00PM (sharp)
Patron Stage, named after the restaurant's bossy cat, is a comedy club established by a group of international established and upcoming comedians from all different backgrounds.
Pizza Padrone, where the events happen, is famous with being one of the "top 500 italian restaurants in Amsterdam that is run by non-italians".
p.s. did you know that an hour of laughter burns the calories of one whole pizza?(this is some serious research, google it.)