Tasty Thursday English Comedy Showcase in Amsterdam
Pizza Padrone | Patron Stage
63HS Potgieterstraat, 1053 XV Amsterdam
---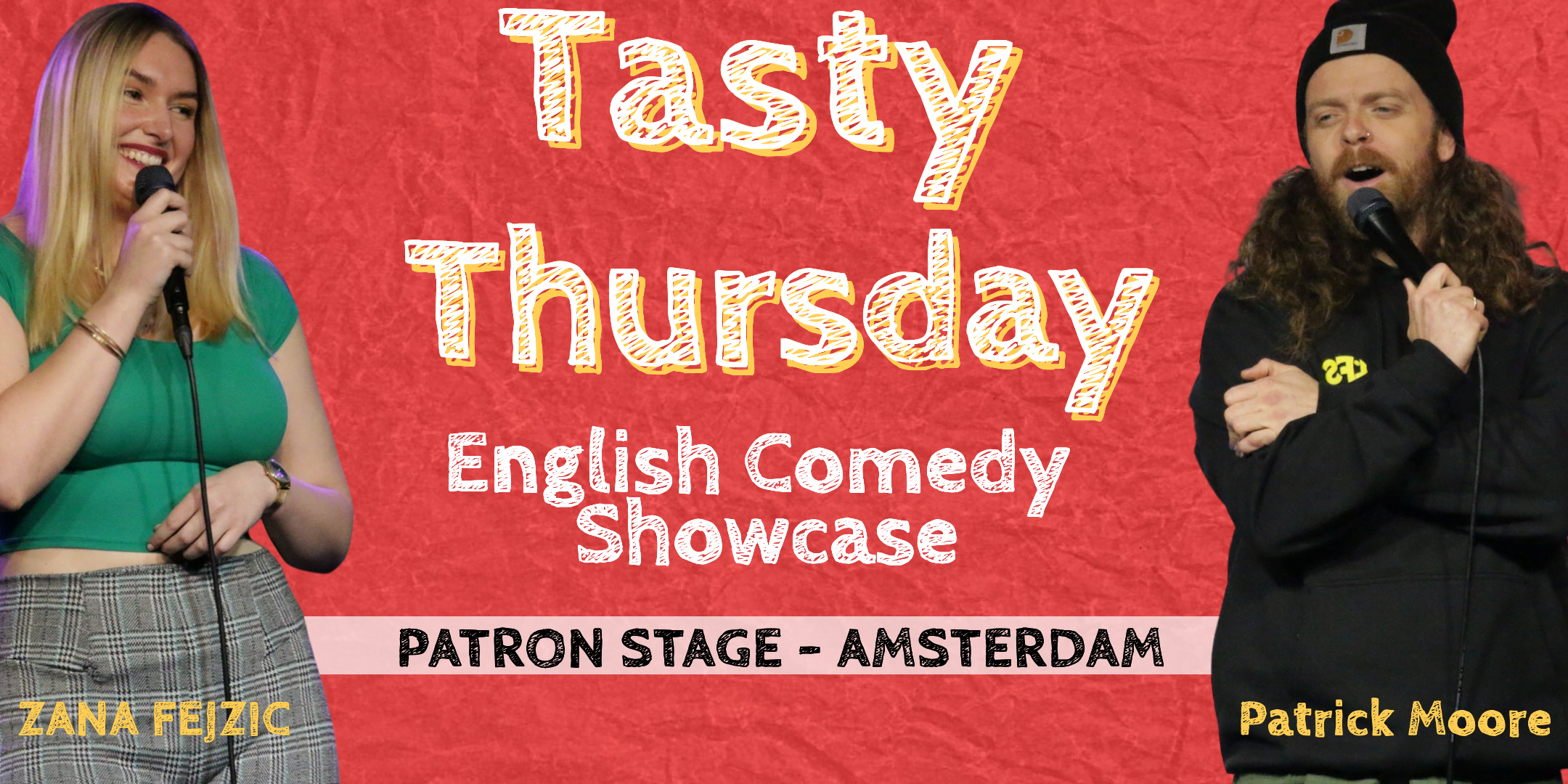 Tasty drinks, delicious pizza & hilarious comedy!
Tasty Thursday presents Patrick Moore & Žana Fejzić, 2 international comedians based in Berlin, bringing the laughs to Amsterdam.
WHEN:
**Thursday January 19th**
Doors open: 18:00 for Pizza and Drinks!
Show begins 20:00
TICKETS:
9€ + Eventbrite fees for students with valid student ID
13€ + Eventbrite fees General Admission
WHERE:
Patron Stage
Potgieterstraat 63HS, 1053 XV Amsterdam, Netherlands
IG @patronstage
Meet The Performers!
Žana Fejzić (BIH/USA)
With barely a year into comedy, Zana is quickly becoming one of the hardest working comedians in the scene. Within 5 months of starting comedy she became a finalist in the 2022 Berlin New Stand Up Awards and is now hosting and producing shows in Berlin and Lisbon. You can catch her perform nightly across Berlin and hear her fresh take on the absurdity of immigration laws, her Balkan background and growing up in Florida.
IG @zanafejzic
https://www.facebook.com/zanacomedy/
Patrick Moore (USA):
Patrick Moore was born and raised in the San Francisco Bay area, and grew up on a diet of love, attention, and tofu. In keeping with his unorthodox background, Patrick started his stand-up career in Berlin, Germany. Where he was one of the runner ups in the Berlin New Stand Up Awards. He has performed all across Europe, and produces his own monthly showcase in Berlin. Patrick hosts a podcast called Patchats, and creates original sketches on his YouTube channel. You can find his podcast, sketches, and stand-up clips by following him on Instagram/TikTok/Facebook/Youtube @patmoorecomedy 
IG @patmoorecomedy
https://www.facebook.com/patmoorecomedy
Hosted By Luana Matei (ROM/NL):
Born in Romania, lived in Tokyo for 12 years and got trapped in Amsterdam during the lockdown. Her comedy is dark, insightful, and deftly encapsulating her experiences having lived all over the world! Mainly performing in English, but also Japanese & Romanian, based in Amsterdam / Berlin, she opened/promoted for comedians such as Yumi Nagashima, Yuriko Kotani, Radu Isac, Mike Rice, Victor Patrascan, Sid Singh, etc. In June 2022 she kicked off the successful standup comedy show called "3 Girls 1 Mic". Luana started the Comedy Open Mic at Comedy Cafe Amsterdam & Utrecht, toured all over Netherlands with sold out shows in Amsterdam, The Hague, Eindhoven, Utrecht, and outside the Netherlands in Berlin, Munich, Hamburg, Vienna, Budapest, Krakow, etc.
IG @luanacomedy
https://www.instagram.com/luanacomedy/